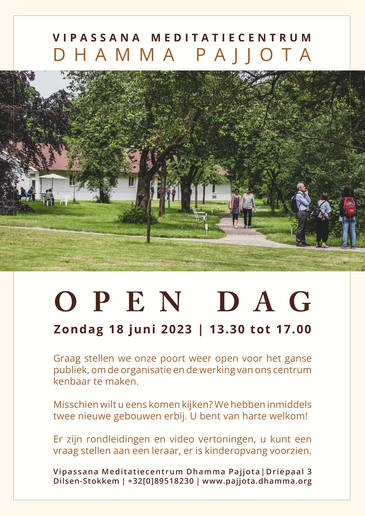 Sunday, 18 June 2023, from 13:30 till 17:00
After a break of three years Dhamma Pajjota opens again its doors to all visitors. On this special day the centre is full of familiar faces and also many new ones. All are welcome: friends, neighbours, family of meditators, or the simply curious.
Program for the open day:
Tour of the center:
A walking tour gives visitors a good oversight of the physical site: from the meditation hall to the accommodation buildings, from the walking areas to the new kitchen dining building. During the tour you will also get a glimpse of how the centre has developed in the last 23 years, get background information on the two big construction projects that have just been completed, and get an insight into possible expands for the future.
Films about Vipassana meditation:
In the course of the day various documentaries will be shown about Vipassana in the tradition of S.N. Goenka. The documentaries are available in English, Dutch, German and French.
Talk with a Teacher:
There is the opportunity to have a talk with one of the involved teachers.
Information Stand:
Here you will find general informationabout Vipassana meditation and other centers all over the world as well as a program booklet of the day including a map of the center area.
For the children:
During the open day we provide childcare. Various games and other supervised activities are offered.
Enjoy a snack:
Those who have completed a ten-day course at Dhamma Pajjota know that the volunteers who serve in our kitchen prepare very tasty food. Join us and sample the cakes, snacks and drinks that they have lovingly prepared for the day.
Do you need more information? Call us at +32 - 89 - 51 82 30 or send an email to [email protected].
You can invite your family and friends by forwarding them this flyer.