Donations specifically for this project
Vipassana vzw, Dilsen
IBAN: BE29 5231 4056 1664
BIC: TRIOBEBB
(Triodos bank, Hoogstraat 139, 1000 Brussels, Belgium)
Donate through PayPal or credit/debit card
PayPal charges 0,35€ for each transaction and 1,7% of the amount.
This project depends on the work and financial support of old students. Have you previously completed a ten-day course in our tradition? If so, then we consider you an old student, and welcome your assistance.
You now have a wonderful opportunity to also become involved.
We are in the last phase of the works at Dhamma Pajjota. It is an exhilarating time. The new buildings are there, but a lot of work still needs to be done to get them ready to use. For this last part of the project we need all the help we can get.
From now until Mid May 2023, you can help out by picking up a paint roller, a broom, or a spade. The work will be coordinated on site. By doing these jobs ourselves, we will save out a significant amount of money.
This SPECIAL WORK PERIOD will continue even during the courses.
You can come for a few days or for a longer period of time.
Please apply well in advance through the online schedule, as places to accommodate servers are limited during courses.
In the following periods we can accommodate many servers:
during the short work periods in between courses;
from 30th of April till 11th of May 2023.
We are looking forward to working together with you to complete these wonderful building projects.
If you have questions or special skills, please mention them on your registration form.
Do you want to support financially right away?
Even though the bulk of the costs of the project construction, engineering and architects fees for in total 3 million euros are covered in the short term by old-student donations and loans, extra donations of about €350,000 are also needed to pay for a host of additional related expenses. Your help would be very much appreciated.
Below is an overview of the expenses that still need to be covered: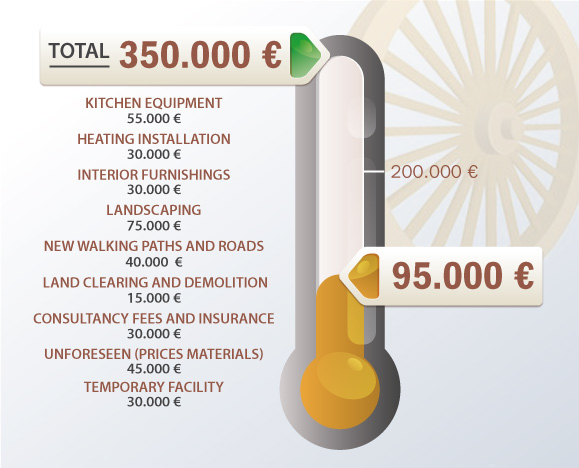 In the longer term, many loans will have to be repaid, including bank loans on which interest is accruing. Recurring donations are a very helpful way to help to lighten this load.
More information on financial support can be found here. This page is for old students, so you need to log in with username and password. You can also contact [email protected] if you have questions.
---